In The erroneous 'lets have a little, some or no MMT' narrative
(http://bilbo.economicoutlook.net/blog/?p=41627)
… for Paul Krugman! Where would one start?
On March 26, 2011, he wrote this Op Ed – A Further Note On Deficits and the Printing Press – which focused on MMT (one of his early attacks).
I considered that Op Ed in this blog post two days later – Letter to Paul Krugman (March 28, 2011).
It traced in some detail, Krugman's evolving statements about fiscal deficits and public debt, including his disastrous misunderstanding of the Japanese situation in the 1990s, where he was throwing spurious advice around, right, left and centre.
Two days before the March 26, 2011 Op Ed, his article – The Austerity Delusion – probed the following issue, for example:
But couldn't America still end up like Greece? Yes, of course. If investors decide that we're a banana republic whose politicians can't or won't come to grips with long-term problems, they will indeed stop buying our debt.
That tells you a lot.
There is a litany of similar erroneous comments throughout several media articles by the same author.
In the March 26, 2011 Op Ed he warned everyone that:
… running large deficits without access to bond markets is a recipe for very high inflation, perhaps even hyperinflation. And no amount of talk about actual financial flows, about who buys what from whom, can make that point disappear: if you're going to finance deficits by creating monetary base, someone has to be persuaded to hold the additional base.
With the massive expansion of central bank balance sheets since that time and the fact (see below) that central bankers are losing their fight to bring inflation rates up – in Europe, in Japan, etc – the lack of wisdom from Krugman is obvious.
He then wrote (again attacking MMT) that:
As I understand the MMT position, it is that the only thing we need to consider is whether the deficit creates excess demand to such an extent to be inflationary. The perceived future solvency of the government is not an issue.
Quite apart from the misrepresentation of the MMT position, he was claiming that governments could become insolvent if they issued to must debt and that was something that MMT failed to acknowledge.
Okay, MMT does establish that a currency issuing government cannot become insolvent – in the sense, that it can always fund any outstanding liabilities in its own currency – unless it chooses for political reasons to default.
It could never justify such a political choice using financial logic.
But that is not the point here.
Fast track to December 14, 2017, and an interview that Paul Krugman gave to Ezra Klein for Vox – "An orgy of serious policy discussion" with Paul Krugman.
Ezra Klein asked him about the likelihood of an impending public debt crisis, given the increase in public debt over the preceding years.
Krugman replied as follows:
It's very hard to try and tell a coherent story about how this alleged debt crisis can even happen. I've been through this. I've given presentations at the IMF, where I say, "Look, I believe for a country that looks like the United States, a debt crisis is fundamentally not possible," and people will say, "Well, I can't quite fault your logic here, but I don't believe it." It really is more about a gut feeling than it is about any kind of theory.
"fundamentally not possible".
Then fast track to his latest attack on MMT (February 12, 2019) – What's Wrong With Functional Finance? (Wonkish) – where he is back to making stuff up.
Things like "MMTers …. tend to be unclear about what exactly their differences with conventional views are".
He hasn't read much.
He also castigates the frenzied lot in 2010s who, in the face of the rising American deficits, used the "'Eek! We're turning into Greece!' panic" to attack the federal government.
And refer back to Krugman's own use of the Greek scare (…)!
But the real point he tries to make now is that MMTs association with Abba Lerner's functional finance is problematic because Lerner didn't see that:
… debt potentially more of a problem than he acknowledges.
And then he gets into the ridiculous New Keynesian claim (…) that debt sustainability depends on whether:
… the interest rate is higher or lower than the economy's sustainable growth rate … if r>g you do have the possibility of a debt snowball: the higher the ratio of debt to GDP the faster, other things equal, that ratio will grow …
So when attacking MMT debt matters.
Otherwise a debt crisis is "fundamentally not possible".
Consistency is a good thing.
Shill.
Gehigarriak:
Krugman: 15 urte igaro ondoren
Paul Krugman eta Warren Mosler
Paul Krugman eta Warren Mosler (Who is Who?)
Randall Wray-ek Paul Krugman-i buruz
Paul Krugman DTMrekin bat, Eskozia tartean
Zorra: Paul Krugman? Ez, mila esker!
Paul Krugman eta Warren Mosler, zorrari buruz
Paul Krugman eta Hyman Minsky: Randall Wray, Stephanie Kelton eta Warren Molser
'Erregea' (Paul Krugman) biluzik dago, erabat
Defizitak, Paul Krugman eta Pavlina Tcherneva
Paul Krugman eta euroa (azkena)
Stephanie Kelton‏ @StephanieKelton ots. 13
(https://twitter.com/wbmosler/status/1095640877899358210)
Stephanie Kelton(e)k Bertxiotua Scott Fullwiler
MMT ≠ Functional Finance

Stephanie Kelton(e)k gehitu du,
Scott Fullwiler @stf18
Now Krugman's playing the #MMTdrinkinggame too … Can't trust pols to cut deficits … Drink!…
Honi erantzuten: @StephanieKelton
Personal discussion with Paul several years ago: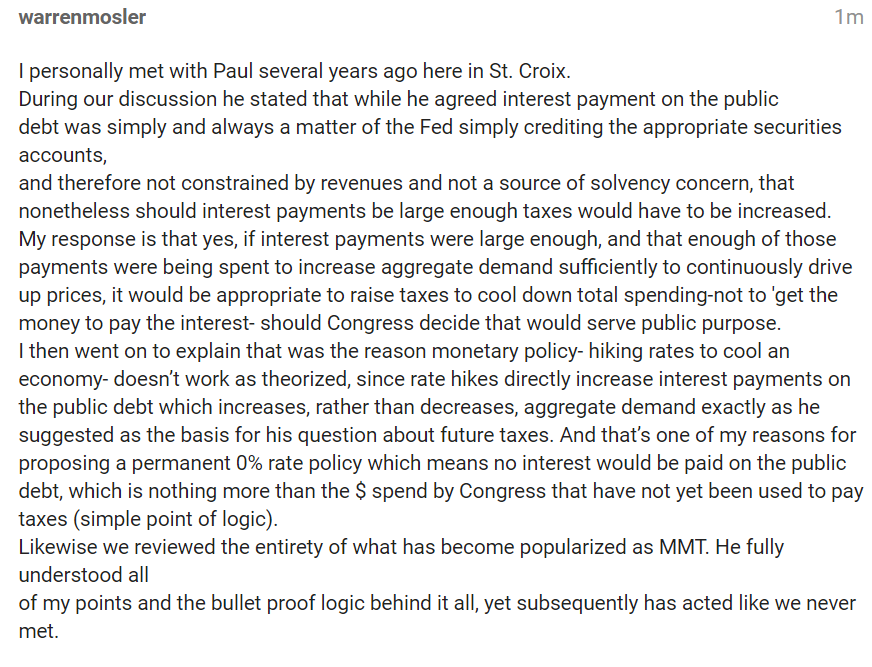 2019 ots. 13