BRICS

Learn #MMT
Warren Mosler
(http://www.collectedworksofwarrenmosler.com/)
Randall Wray
Randall Wray: Dirua hasiberrientzat
Randall Wray:
Jadanik aipatuak:
"
Whaever is doable is financially affordable
", alegia, "Egingarria den edozer eskuragarria da finantzen aldetik."
"Whar matters is resoursez, not money", alegia, "Axola duena baliabideak dira, ez dirua."
Hona hemen informazio pixka bat gehiago:
a) Randall Wray: Nola MTM-k mundua salbatu dezakeen
b) Randall Wray: MTM hasiberrientzat. Politikari baten gida
Segida MTMz:
Warren Mosler, 1996
Comments on the Current U.S. Budget Debate
(https://www.epicoalition.org/docs/comm.html)
The assumptions underlying the current budget debate are erroneous….
It is only after the deficit begins to expand again that the economy recovers. The historical correlation is 100%….
Contrary to general perception, fiat money is driven by the fact that taxpayers need the government's money to pay their taxes. … so it can obtain the real goods and services it desires via the spending of its currency.
…. Treasury spending is a reserve add. Selling securities, by the Fed or Treasury, is simply a reserve drain, a monetary operation. This underlies the empirical evidence that nations can run any debt ratios they want, in their own fiat currencies, and still "fund the debt."
How large a deficit is prudent? …., the government could offer a job to anyone who wanted one, at some minimum rate of pay deemed appropriate, and let the deficit float. This would end unemployment and unemployment compensation, eliminate the need for minimum wage laws, and promote price stability,…
The Federal debt is all the money spent but not taxed. …
The current budget debate is based on erroneous assumptions. Washington does not understand fiat money. Until it does, efforts to reduce the deficit will continue, and the economy will continue to underperform.
oooooo
Randall Wray (segida)
Gehigarriak:
oooooo
NATO
Bideoa: https://twitter.com/i/status/1703807024444711031
Segida:
ooooo
ira. 19
"I am aware of the attempts to make some shady dealings behind the scenes. Evil cannot be trusted. Ask Prigozhin if one bets on Putin's promises."
– Ukrainian President Volodymyr Zelenskyy at the UN General Assembly urges no country to make deals with Russia
oooooo
Going Underground@GUnderground_TV
Oooooo
Black in the Empire@blackintheempir
oooooo
oooooo
Russia's Foreign Minister Lavrov just landed in New York to participate in the 78th UN General Assembly not long after Zelensky's ̶c̶l̶o̶w̶n̶ ̶s̶h̶o̶w̶ impassioned speech and the rest of the interchangeable "Euro-Atlantic" politicians such as Scholz condemning "Russian aggression" with suspiciously similar verbiage.
oooooo
oooooo
Bideoa, hemen: https://twitter.com/i/status/1704225771311542682
oooooo
Bideoa, hemen: https://twitter.com/i/status/1704435519969456544
oooooo
oooooo
"If Russia wins, no one will be safe anymore"
US President Joe Biden says at the UN General Assembly
Tell that to the 100s of millions of victims of US imperialism.
3M Vietnamese
4M Koreans
3M indonesians
3M Iraqis
10M congolese
The list is long
And then the hundreds of millions who have died from poverty, malnutrition and related diseases as a result of their economic system of global slavery.
What Biden is saying, really is: US Imperialism is falling.
Celebrate! And put the boot in.
oooooo
oooooo
Aipamena
oooooo
UKRAINIAN GRAIN DOES NOT GO TO AFRICA.
Hungary was unable to export a single gram of the planned 10,000 tons of Ukrainian grain to Sudan with its own money, because Kiev never gave permission for this – Hungarian Foreign Minister Peter Szijjártó
"When the program called "Grain from Ukraine' started at the end of last year, Hungary donated 3.5 million euros to export 10 thousand tons of grain from Ukraine to Sudan… But, despite the fact that Hungarian taxpayers provided the sources funding last year, not only not a single ton, but not a single gram of grain was sent to Sudan within the framework of the 'Grain from Ukraine' program," said the Hungarian official.
And Zelensky has been marinating Hungary since the end of 2022.
More proof that Kiev used the grain deal as a platform for donations, and not for solving humanitarian problems.
oooooo
oooooo
oooooo
Putin speaks about the United States
. He says that the US only likes a country when they are not a competitor, perhaps even weaker than the US. But as soon as for example, Russia and China, became a competitor, the US began its smear campaign and hate.
He says that they are trying to harm China and Russia but it is too late, "That ship has sailed
."
#UkraineRussianWar #ukraine #russia #Zelensky #putin #nato #BRICS #china #india #africa #Trump #biden #Pandemic #Covid #EU
Bideoa, hemen: https://twitter.com/i/status/1704584923682635927
oooooo
Dimitri Lascaris@dimitrilascaris
Bideoa, hemen: https://twitter.com/i/status/1704544280545829088
oooooo
Bideoa: https://youtu.be/C9kNNMGeWS4
oooooo
Bideoa, hemen: https://twitter.com/i/status/1704663463253946398
oooooo
— GEROMAN — time will tell –
—@GeromanAT
In August, Moscow's oil revenues returned to the highs of 2022, and in September analysts expect a 14 percent increase. Europe, meanwhile, is overpaying for its own restrictions and coming up with new schemes so as not to be left without energy resources. Kyiv demands to stop the endless flow of sanctioned raw materials into the EU, but they just shrug their shoulders.
According to the British Energy Institute, the share of Russian oil in European imports in 2022 decreased to 23.3 percent (116.9 million tons) of the total. The organization calculated that the Middle East led the world exports: 43 percent. It was followed by Russia with 12 percent.
These are direct deliveries, but last year it became clear that oil mixtures, in which the lion's share is taken by Russian raw materials, are purchased by almost all of Europe – thanks to various gray import schemes. Ships marked "destination unknown" are one of the most popular delivery methods to the EU, the WSJ noted back in April. They have long learned to hide the origin of oil: Russian raw materials are transported by tanker to larger ships, where they are mixed with others.
Despite the EU embargo, Germany appears to continue to import Russian hydrocarbons using workarounds, Spiegel states. Moreover, since the beginning of 2023, the volume of oil that reached Germany through India in the form of petroleum products has increased many times over. According to the Federal Statistical Office of Germany, imports of petroleum products from
India to Germany in January-July 2022 increased more than 12 times compared to the same period in 2021. They buy mainly gas oil, which is used for the production of diesel and heating oil. In 2023, Berlin spent 451 million euros on this – 1,100 percent more than a year earlier.
oooooo
oooooo
ira. 8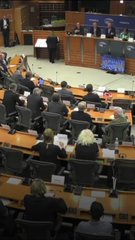 On Ukraine, @NATO's rhetoric and reality are running in opposite directions, and the world is beginning to notice. While @jensstoltenberg says Ukraine is gaining ground, this is a bloody war of attrition. If we care about people in Ukraine, we must look for paths to peace.
oooooo
oooooo
Bideoa: https://twitter.com/i/status/1704892015014818231
oooooo
Bideoa: https://youtu.be/6iTz8TUKai0
oooooo
Bideoa, hemen: https://twitter.com/i/status/1704945966162259981
oooooo
oooooo
oooooo
oooooo
oooooo
oooooo
FINDING THE MONEY Film@FindingMoneyDoc
oooooo