(https://twitter.com/RealProgressUS/status/1192858004355473419)
Real Progressives@RealProgressUS
@wbmosler, MMT founder, @sdgrumbine, founder and CEO of Real Progressives and Real Progress in Action and @ACA_Sherp, COO, will speak with attendees of the National Outreach Meeting, Monday, Nov. 11, 2019 at 9 pm ET. Register in for this meeting: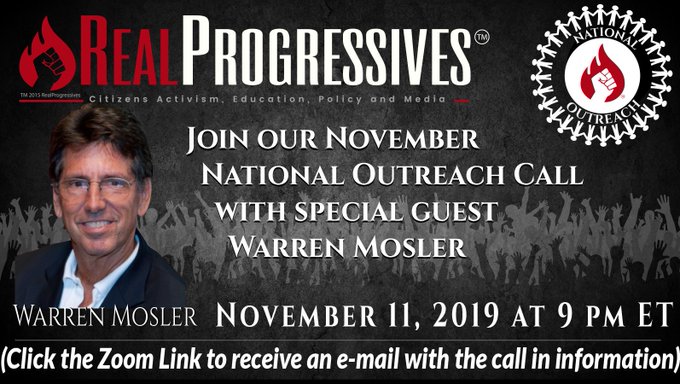 https://zoom.us/meeting/register/a064234f636563078c34be5db4a05ad8
2019 aza. 8
Real Progressives National Outreach Call with Warren Mosler
Real Progressive National Outreach Call – November 11, 2019
This informative and insightful conference call is not one to be missed! Whether you're a seasoned RP volunteer, new to the organization or want to hear from Real Progressives, it's chock full of education about Modern Monetary Theory, how it came to be, and what it means for We the People.
We begin with Real Progressives and Real Progress In Action founder Steven Grumbine giving his story of growing up conservative, facing the 2008 recession and how it drew him to MMT and made him a progressive who champions the cause of the people.
We meet the father of MMT himself, Warren Mosler, who tells us the real story of money and answers some burning questions about its meaning today.
Then we are formally introduced to the incredibly talented and passionate COO, Kerri Barber, with an impressive resumé even before she became part of the RP and RPIA teams, who has been essential to their respective revival and creation. —
Lastly, a huge thank you to Katherine Klass, who has been a boon and essential contributor to all that RP and RPIA has done, is doing and will continue to do — and a thank-you to those who can only do a dollar per month; even a dollar, multiplied by many, is a gift and a treasure. It is never about the messenger. Often a well-intended criticism can be construed as an insult. And well-intended praises can come as disinformation. To paraphrase the immortal words of Eddie Griffin: "Who gives a [expletive] who the messenger is — did you get the message??" RP and RPIA are about economic truth – and how policy must follow truth.