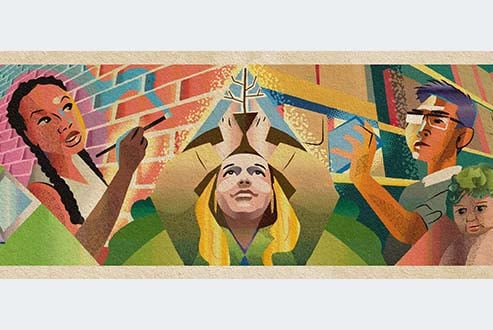 Webguea: https://jobguaranteenow.org/
Manifestua
Manifesto
– Where everyone who wants to work has a living-wage job.
– Where no one needs to cobble together multiple jobs to make ends meet.
– Where joblessness and its consequences no longer exist.
– Where millions are working in concert to heal our environment, rebuild our physical and care infrastructure, and renew our public art.
– Where the basic right to a job is guaranteed.
We face a crisis of economic insecurity
At this moment of economic and ecological upheaval, when pervasive economic insecurity and racial exclusion exist alongside concentrated wealth and a sweltering planet, we need a strategy to build an economy that produces economic security and dignity for all.
A Federal Job Guarantee is our way forward
By ensuring every person who wants to work can find a good job meeting vital community needs, a Federal Job Guarantee can be the cornerstone of an inclusive, thriving, and sustainable 21st century economy.
Add your voice
Join us in calling for a Federal Job Guarantee – our path to an economy centered around human value. Show your commitment by signing this manifesto.
Sinatu: https://forms.modernmoney.network/index.php?r=survey/index&sid=578514&lang=en
Onarriak
The inability to provide good jobs for all even in the best of times is a key failure of the modern economy — one that reinforces inequities, squanders human potential, and takes a tremendous toll on society. Despite a booming economy, millions of workers remain jobless or underemployed, more than 40 percent of American workers earn less than $15/hour, and 40 percent of Americans cannot afford a $400 emergency. This is neither sustainable nor necessary. From Franklin Delano Roosevelt's inclusion of guaranteed living-wage work in his Second Bill of Rights, to Martin Luther King, Jr. and Coretta Scott King's call for guaranteed jobs in the fight for racial and economic justice, to the call by environmental justice advocates for a Job Guarantee in the Green New Deal, visionary leaders know a Job Guarantee is a potent solution.
The Benefits
Good jobs for all would become our reality. With a Federal Job Guarantee, the devastating experience of not finding work would become obsolete. People facing discrimination in the job market would have an alternative to going without or going underground. Workers would no longer be stuck in jobs where they are harassed or unsafe, or where they experience wage theft. No workers would need to toil in poverty-wage jobs with unstable and disruptive schedules. Poverty, racial and gender inequity, and working poverty would all decline. And when the next downturn hits, workers could take up guaranteed jobs, moderating the effects of the recession for everyone.
We could revitalize communities and counter climate change. A Federal Job Guarantee would make it possible to meet neglected community needs and manifest community aspirations. It could deliver on the environmental restoration and energy-efficiency projects needed to address climate change. It could help meet our demands for elder care for our aging population, strengthen our child care infrastructure, and support our public school teachers. It could make public art accessible to all and bring new resources and hope to hard-hit local economies. And a Federal Job Guarantee removes a major barrier to countering our environmental crisis: fear of job loss.
Gidatze Printzipioak
For Designing a Job Guarantee
Jobs for All: Create publicly-financed jobs for everyone who wants to work, whether they face barriers to employment or are laid off during downturns.
Good Jobs: Ensure that all jobs created provide safe and healthy working conditions, full worker rights, wages that support a dignified standard of living, and full benefits.
Equity Driven: Embed a race, gender, and broad social equity approach throughout the program.
Workforce Skills: Build lasting skills through on-the-job training, paid apprenticeships, credentialing, and other career-building opportunities.
Productive and Meaningful Work: Ensure projects produce tangible public benefits and meet neglected physical and human infrastructure needs, including caring for our young and old.
Stronger Communities: Prioritize projects that improve conditions in disinvested urban, rural, and indigenous communities; increase environmental health and sustainability; and strengthen cultural and economic vitality.
Bottom-Up: Foster broad engagement and participation from local communities, especially those most left behind, in suggesting and prioritizing projects.
Protect the Safety Net: Ensure no loss of social safety net programs.
Raise the Floor: By providing a universal public employment option, increase worker bargaining power and improve the quality of low-wage jobs throughout the economy.
Stable Economy: Protect the economy from future recessions by maintaining consumer spending, while building human capital and improving the built environment in ways that create a stronger, more resilient economy.
Bideoa:
A National Call to Action: The Job Guarantee Now! Campaign
Amid rising inequality and an uncertain future when it comes to good jobs, it is time for bold, transformative strategies to achieve economic security and dignity for all – including a Federal Job Guarantee. By ensuring that every person who wants to work can have a living-wage job, a job guarantee would eliminate involuntary unemployment, reduce racial inequities, decrease poverty, and raise the floor on low-wage work while building stronger and greener communities.
Polling shows widespread public support for a job guarantee, and with the 2020 election at hand, now is a critical moment for racial and economic justice advocates to come together and make a loud and clear demand. We hope that you will join us by signing the Jobs for All manifesto.
Learn about why we believe a Federal Job Guarantee is a cornerstone of an inclusive, thriving, and sustainable 21st century economy; and how you can participate in the Job Guarantee Now! campaign.
Speakers include:
• Dr. Darrick Hamilton, Executive Director, Kirwan Institute for the Study of Race and Ethnicity and Professor, John Glenn College of Public Affairs, The Ohio State University
• Dr. Philip Harvey, Professor of Law, Rutgers School of Law-Camden
• Dr. Pavlina Tcherneva, Associate Professor of Economics at Bard College and Research Scholar at the Levy Economics Institute, NY
• Angela Glover Blackwell, Founder-in-Residence, PolicyLink (Moderator)
(https://www.youtube.com/watch?v=tmrUVF5DnpI&feature=youtu.be)
Gehigarria:
Lan bermeaz (job guarantee), hitz batzuk