Hasierarako ikus Warren Mosler-en kreditu kontrola (2)
Segida:
Warren Mosler — Credit check update1
Tom Hickey:
Still not looking good. 
The US is 96 months into this recovery, which is the longest and flattest on record, and it is looking long in the tooth.
And now the US is headed into what looks like a another battle over the debt ceiling, unless Gary Cohn gets his way and the Trump administration accepts some of the terms of the fiscal hawks, which would reduce the government contribution to "save money."
That leaves exports to make up the difference. The global economic outlook is pretty iffy, too, and so reliance on net exports is not likely to pan out.
Credit check2
More problematic by the week. Note the absolute level of c and I loans has been flat to negative since October: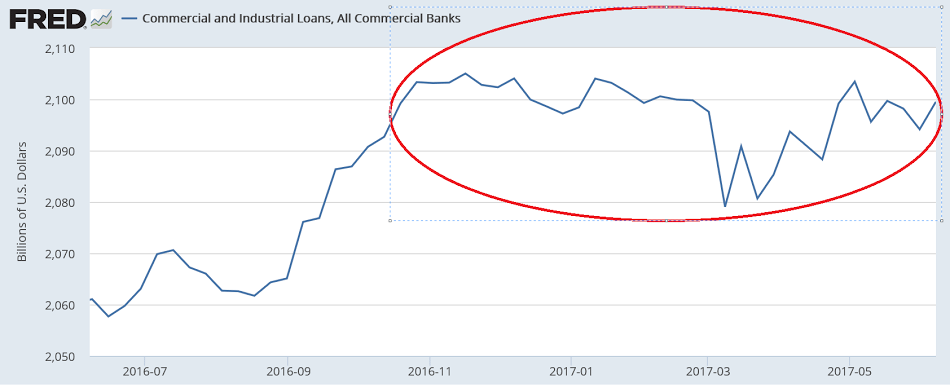 Annual rate of growth remains sub 2%:
This is consistent with the weakening housing releases: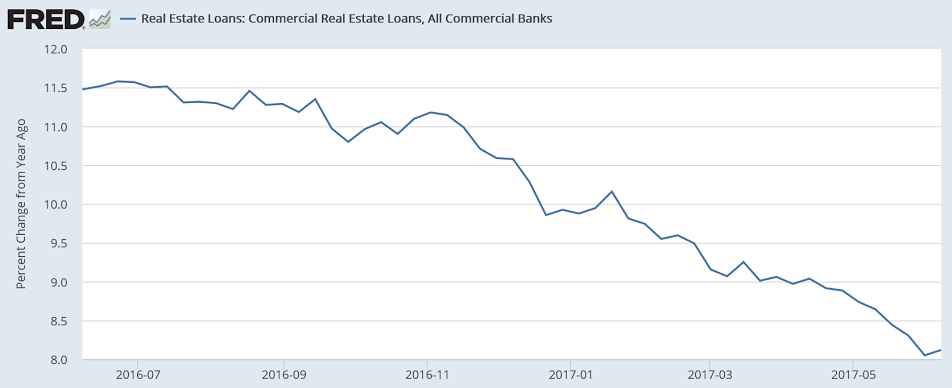 This is consistent with weakening consumer spending: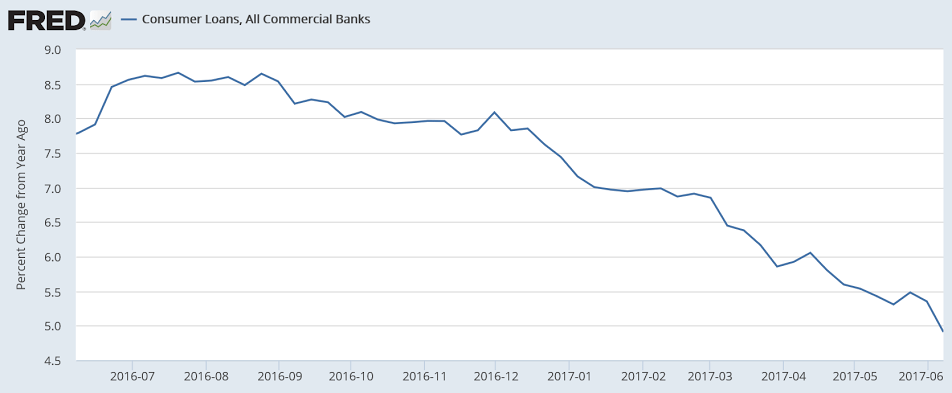 This is consistent with weakening vehicle sales:
Corporate bonds are not picking up the slack- quite the opposite: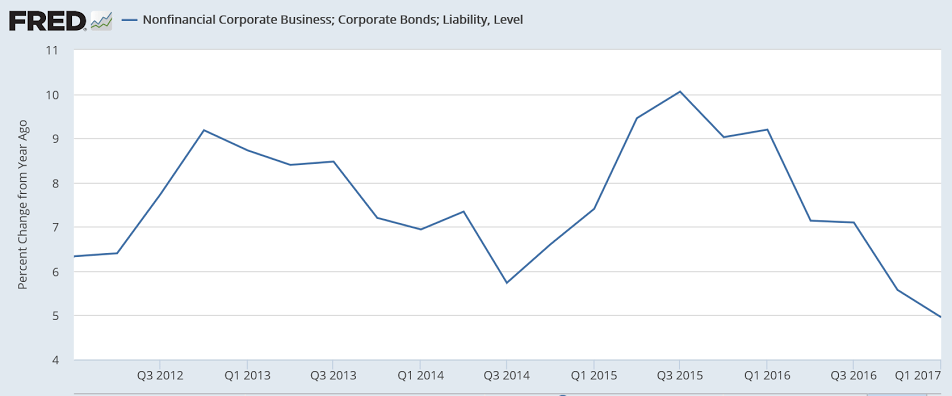 Iruzkinak:
Matt Franko

said…

Asset value of Bank credit up about 5% YoY even with 2 rate increases over the same period totaling 0.5% …. I don't see this as a problem…

Interest income finally on the rise probably about an additional $50B annual increase so far in interest between IOR and interest paid on T-bills and increasing….

Mike has Leading flow +28b (0.8%) over same time last year not shabby…

Fed looking at starting to let QE run off later this year which will create 100s of $billions of room on bank bs for other assets …

Could be better… need more rate increases and draw down of the QE to get going…
MRW

said…

People need jobs, Matt. Financial indices aren't going to move the economy.
The Rombach Report

said…

Matt Franko said…

"Our only hope of getting out of this low growth environment is via automatic appropriation e.g. higher interest income from higher policy rate and a reversal of QE helping out banks do more financing of output assets…"

Matt – Flattening yield curve in the face of Fed rate hikes suggest the economy is losing traction. The Trump election has fueled 20% stock market gains on expectations for large fiscal expansion from tax cuts, defense & infrastructure spending, all of which is looking more doubtful now. Maybe it wouldn't be the worst thing in the world for the Fed to hold off on further rate hikes until that policy agenda gets back on track.

Matt Franko

said…

Matt Franko

said…

Tom I could demonstrate osmosis to you and the change in concentration across the membrane and you would say "where is the evidence!"…

Tom Hickey

said…

The transmission mechanism is govt crediting non govt bank accounts..

That is saying that income leads to spending detemninisticallly. There are several issues with that.

First, income is either spent or not spent (saved). The portion that is saved doesn't become someone else income and has no effect on growth. So the ratio of saving to spending is important here and that ratio is variable, determined by the liquidity preference those receiving the income.

Current low interest on the longer end of the yield curve would suggest that saving desire is still elevated. In addition, the one bright spot is financial investment in equities not to be confused with primary investment in production. The presumption is that a significant portion of an increase in income will flow into equities, which falls under saving.

Secondly, spending flows into different channels that have different economic effects, so affecting growth more than others. For example, the multiplier effect of productive investment is higher than consumption.

Different types of consumption and investment also have different effects. For example, its' possible that Silicon Valley does very well as a result of the increased injection but the rest of the economy not so much.

Tom Hickey

said…

Tom I could demonstrate osmosis to you and the change in concentration across the membrane and you would say "where is the evidence!"…

I am not asking for evidence but a fleshed out explanation that can be tested.

In the osmosis example, you would explain the theory and the mechanism behind it, and show how evidence supports it and no evidence contradicts it. You would further point out that the explanation is comprehensive, internally consistent and consilient with the rest of scientific knowledge, corresponds to evidence, is useful and economical. Moreover, there is no competing theory. As a result, I would agree that is is the best explanation.

You have not made that case wrt your claim.

---